Industrial Floor Care Machines Provided & Fitted to your needs by
Floor Care Experts
sometimes the ol' mop

can't get the job done
clean & healthy floors

benefit your business
Maintain Appearance
Increase Value
Healthy Environment
Reduce Injuries
Boosts Morale
Industrial and commercial floor surfaces are hard to clean using typical manual cleaning processes. Industrial Floor Care Products, LLC is a leading provider of new and used industrial floor cleaning equipment such as floor sweepers & scrubbers available for purchase.
Authorized

Factory Cat Dealer

American made factory cat

industrial floor
cleaners
On-Site Service and Repair in Wisconsin
Factory Cat is the brand name commercial cleaning equipment built by R.P.S. Corporation, a Wisconsin corporation established in 1986. Factory Cat machines are all manufactured in Racine, Wisconsin, USA. Factory Cat does not private label from other manufacturers.
industrial floor sweepers
A dependable Factory Cat Floor Sweeper will assist you in keeping your facility free of dust and debris. Factory Cat Floor Sweepers are manufactured to fight against the harshest conditions and handle the most delicate of your facility's environments. Along with providing our clients the best industrial floor sweepers in the industry, Industry Floor Care Products, LLC will be your trusted partner for service and repairs, parts, and supplies. Browse our selection of new and used Factory Cat floor sweepers to find the model that best suits your needs.
industrial floor scrubbers
Industrial Floor Scrubbers help sanitize facilities requiring frequent hygienic scrubbing, keeping your facility looking its best. Factory Cat Industrial Floor Scrubbers are manufactured to keep your facility sparkling and sanitary allowing your workforce to operate at its highest level every day. Industrial Floor Care Products, LLC offers the best in class floor scrubbers manufactured by Factory Cat, and will remain your trusted partner for parts, service, and supplies after the sale. Contact us today for more information or a free demo on your next new or used Factory Cat Floor Scrubber.
Buy a Used Floor Scrubber or Sweeper
Industrial Floor Care Products, LLC offers high quality refurbished machines at competitive prices. See our selection of used equipment and find the floor cleaner that meets your needs.
Sell Us Your Industrial Floor Cleaner
Industrial Floor Care Products, LLC will buy your used floor sweeper, scrubber or burnisher at a price that can't be beat.
For more information, contact us today.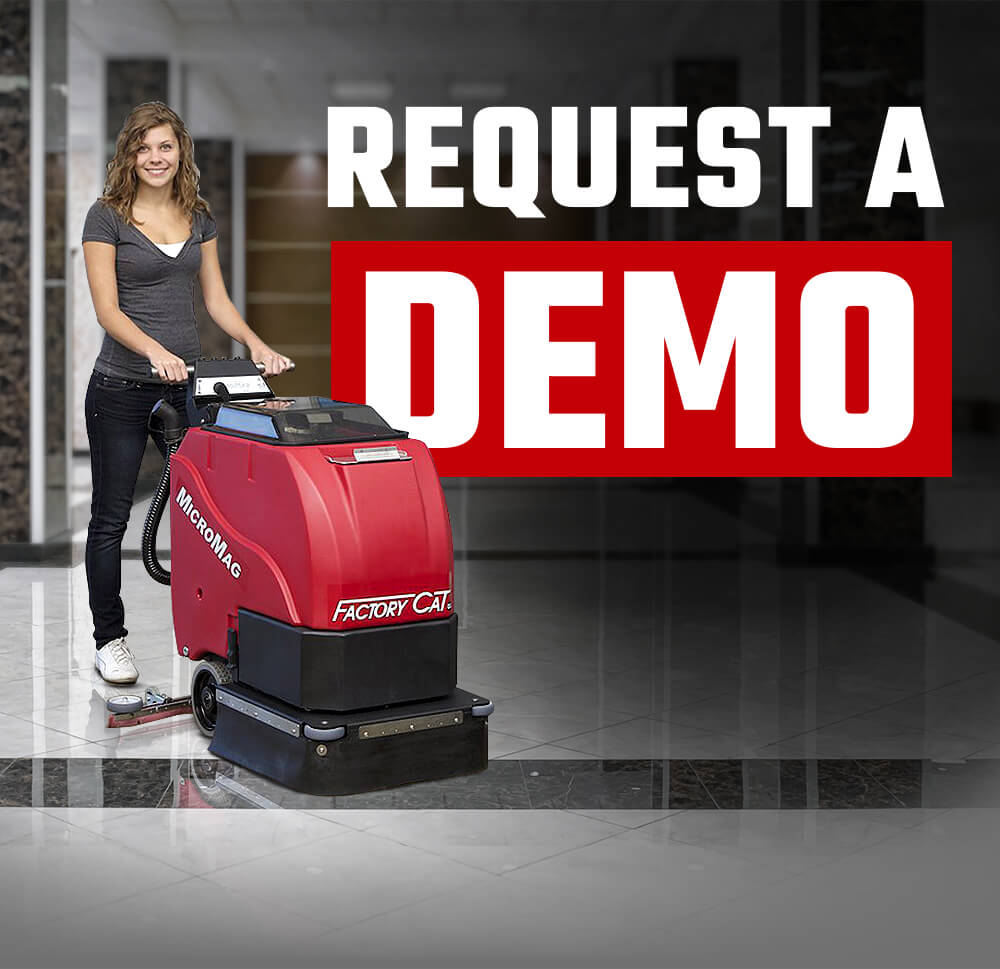 TRY BEFORE YOU BUY!
Industrial Floor Care Products, LLC offers free demo's on all of our equipment.
Contact us now!