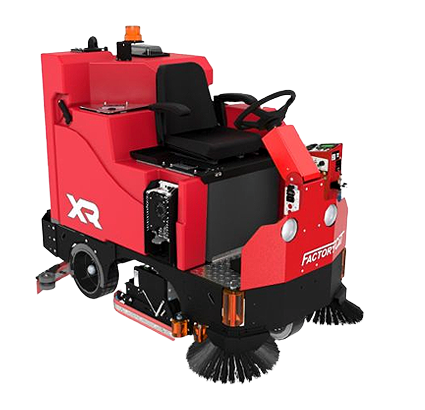 Factory Cat XR Floor Sweeper/Scrubber
The ultimate in floor cleaning efficiency, the XR is designed to sweep and scrub in a single pass - eliminating the need for dust mopping. This machine boasts a gimbaled brush drive and 45% more scrubbing power than other competitive commercial floor scrubber brands. Adjustable wipers and curtains provide unmatched water control, and the heavy gauge steel construction ensures maximum durability and long-lasting performance. With large solution and recovery tanks, wide scrub path, and dual vacuum motors, the XR is the perfect battery powered ride-on floor scrubber for quickly cleaning large spaces. Start saving time and money today with the Factory Cat XR ride-on commercial floor scrubber!
Dimensions(L x W x H)
77'' × 43'' × 59''
Weight
1,925 - 1,975 lbs (w/ batteries)
Cleaning Rate(sq.ft/hr)
37,400 sq.ft.
Industrial Floor Care Machines Provided & Fitted To your needs by
Floor Care Experts